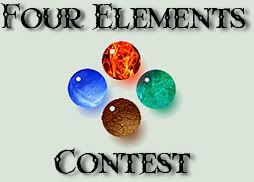 Submissions for the 2011 Summer Contest are in!
:thumb252417773:
:thumb252582044:
:thumb213669402: :thumb246571232:
:thumb253010598:
:thumb254744396:

I'm excited to announce that the first contest submissions are in!
Quick contest summary - for the full rules and a list of prizes, please check here
[link]
Theme is "The Four Elements".
We're running till 8/31.
Up to 4 entries of visual art or artisan crafts are possible, made expressly for the contest.
I'm still looking for volunteers as judges (judges cannot enter themselves, sorry!).
I am also still looking for prize pledges.
List of Judges:





Still need more!
List of Prize pledgers:






List of Contestants:












































* If you ask me to make artwork available as a print, please check if it uses copyrighted material. DA will not take print submissions that are based on such materials. This means, no prints of drawings based on movies or TV shows like the Harry Potter Movies, Brokeback Mountain, CSI etc. If you want a drawing as a print please note me instead.
Commission status: open
If you want to know more about my art:

did a great interview with me.
[link]