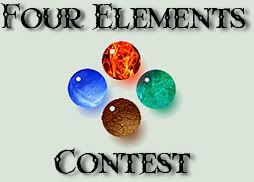 In order to kick off this year's summer contest "The Four Elements" here are some fabulous DA submissions to get your creative juices flowing!

Again, thank you for voting on this year's summer contest. The highest number of votes settled for the theme "The Four Elements", and so this will be the topic of our contest. Whether your take on the four classical elements of Fire, Air, Water and Earth is mystical, spiritual, philosophical or psychological does not matter - we are interested in all of your ideas expressed in traditional or digital art, artisan crafts projects or photography.
You can select to just portray one element on its own or choose to combine more than one in a submission.
Contest Rules
1. All visual media are accepted, including photography, digital and traditional art as well as objects such as sculptures, jewelry, books or textile art. I am sorry to exclude written art. It is just too hard to judge the merits of a poem or story against a drawing.
2. The contest is open as of today, May 11th and will run until August 31st - this should give everyone interested ample time for artwork.
3. All submissions have to be created after the date of the contest opening, May 11th, and have to be made specifically for the contest. Please reference the contest as you publish your work on DA, then note me with the link so I can add the work to the list of contest submissions.
4. Every contestant can submit up to 4 works for the competition (in case you wish to submit a separate entry for each element).
5. If you are a judge, you cannot submit work yourself.
6. There will be three winners announced for the contest: 1st, 2nd and 3rd prize. I also reserve the right to select some "honorable mentions" if we have more outstanding art than we have prizes.
Judges



1. If you would like to serve as a judge for this contest, please note me.
2. If you are serving as judge, it would be kind to offer some prizes. It does not have to be anything costly or fancy. Even the offer to feature the winner(s) in your journal is much appreciated!
3. Remember, if you volunteer as a judge, you will be a little busy at the beginning of September, and you cannot submit art to the contest yourself.
Prizes
1. I will add to the list of prizes as judges let me know about their offers.
2. For now I am offering the following prizes:
1st prize:
A journal feature
A 1-year subscription to DA
A wing-bracelet made expressly for you and featuring the element of your choice
A pair of 11 x 8.5" signed "Leo"
[link]
and "Dawn"
[link]
prints donated by

Beaded beads by

Micro Mini Horse custom by

100 points by

[link]
by

2nd prize:
A journal feature
A 6 month subscription to DA
A wing-bracelet that you can select from a collection of at least 5 ready-made bracelets
A pair of 5 x 7" signed "Leo"
[link]
and "Dawn"
[link]
prints donated by

Beaded beads by

Jewelry prize by

3rd prize:
A journal feature
A 3 months subscription to DA
"Pride pack" - nine ACEO-sized lion prints donated by

Beaded beads by

Jewelry prize by


* If you ask me to make artwork available as a print, please check if it uses copyrighted material. DA will not take print submissions that are based on such materials. This means, no prints of drawings based on movies or TV shows like the Harry Potter Movies, Brokeback Mountain, CSI etc. If you want a drawing as a print please note me instead.
Commission status: open
If you want to know more about my art:

did a great interview with me.
[link]