This is a bit of a mixed-bag entry.
-----------------------------------
1.

tagged me, so here goes.
1. Post these rules.
2. Each tagged person must post 8 things about their self on their journal.
3. At the end, you have to choose and tag 4-8 people and post their icons on the same journal.
4. Go to their pages and send a message saying you tagged them.
5. No tag-backs.
Because I've done this a few times now I thought I'd share some facts about my art.
1. I am really particular about my pencils: if it ain't a Kimberley, I ain't drawing with it
2. Same goes for my drawing paper - I always go back to Strathmore
3. I'm a re-educated leftie, but I still use scissors with my left hand - no one bothered to correct me, they only "fixed" my drawing and writing
4. When drawing I always start with the face and finish it completely before drawing anything else
5. I practically never use blending or smudging in my pencil drawings
6. The first beading technique I learned was netting
7. I use polyester thread for all my bead projects - never met another beader who uses it, though it's so cheap and easy to use
8. I still think that making the first three lines of a peyote stitch piece sucks big time! Then I get over it and do it anyway.
Not tagging anyone, as usual
-----------------------------------
2. Found this warning in

s journal, and thought it might be good to spread the word.
SPAM WARNING
There is a spam comment going around which appears to only post on deviations. The text is "rofl this may be relevant to your interests" and is a link.
If you get this comment please do not click the link. If you do it will send out comments like it through your account to other deviations.
Report it as spam if it is on your deviation.
If you happened to click the link please look in your activity and re-comment on what was spammed, mentioning what has happened.
If possible please post a journal warning others of this issue and/or linking to this article so it can be stopped.
Thank you.
-----------------------------------
3. Finally managed to snap a few pics of my bead bracelets on display at "Beads on the Vine" in Grapevine. Second shelf from the bottom, and sorry about the reflections in the glass, but if you look close you'll see some old DA pieces and some never posted here.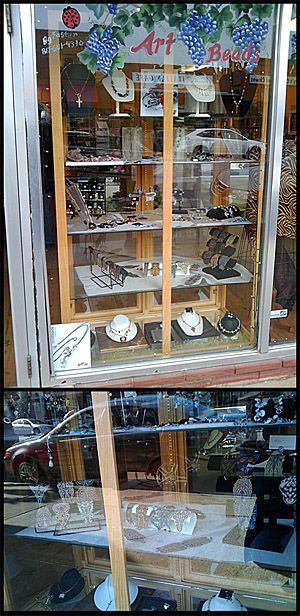 * If you ask me to make artwork available as a print, please check if it uses copyrighted material. DA will not take print submissions that are based on such materials. This means, no prints of drawings based on movies or TV shows like the Harry Potter Movies, Brokeback Mountain, CSI etc. If you want a drawing as a print please note me instead.
Commission status: open
Drawings:
Sirius and OC: received
A Murder of Crows: received
Catriona McGillivray for TheVirginian: negotiating alterations
"Guitar Wizard" for Miki Petrovic: planning references and sketching this weekend
Jewelry:
"Serpent and Kelpie" for Riabhach: received
"Acheron symbols" for redLillith: received
Serpent focal and closure for redLillith: finished
COSplay rings for KingSOB: received
If you want to know more about my art:

did a great interview with me.
[link]
Create your own visitor map!

My Photography and Terragen account