This journal feature showcases a fabulous jewelry artist, who I have been watching for a while. I finally got myself one of her marvelous and very original "twiddle rings". Love her feeling for the natural properties of sheet metal, the subtle work with textures and stone accents and her absolute commitment to precision and solid craftsmanship.


Unfortunately I can't post the actual bracelet in question yet, because of copyright issues, but I collaborated with a German beading magazine to include one of my wing bracelet designs as a project in their latest edition. If you can grab a copy, and you've always wondered how these bracelets work step-by-step, this will answer all the questions.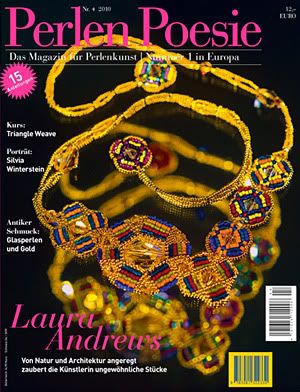 The year has started fairly quietly otherwise. A few art projects, a lot going on at work, but the money is good, and I have been able to treat myself to a few splurges. My latest acquisition is the peridot-set "twiddle ring" from the deviant featured above. I am also working on a brooch vs Narcissa doll art trade, which I shall feature when it's complete.
Oh, and anyone seen the price of silver art clay recently? When I started it was about $50 for 50 grams. I needed to submit a new order yesterday and they're up to $100 per 50 grams. Damn the world economy! Does everyone really have to invest in precious metals these days?! We're looking at a 100% price hike in about 4 years. I wish my 401k was doing that well...

* If you ask me to make artwork available as a print, please check if it uses copyrighted material. DA will not take print submissions that are based on such materials. This means, no prints of drawings based on movies or TV shows like the Harry Potter Movies, Brokeback Mountain, CSI etc. If you want a drawing as a print please note me instead.
Commission status: open
If you want to know more about my art:

did a great interview with me.
[link]