I haven't done a proper artist feature here in a while, so for this entry it's all about

She has a beautifully polished and accomplished jewelry style showing great respect for her materials and excellent craftsmanship, and her serpent jewelry would do any Slytherin proud. Give her some love, people. She deserves way more than 2211 pageviews.

Well, I didn't make this up, I swear! I saw this in a parking lot outside of "Love and War in Texas" in Plano yesterday evening. I didn't make up the cool name for that restaurant, either!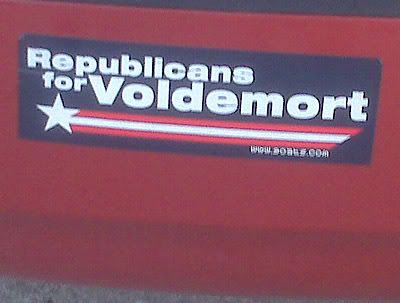 Anyway, while I don't think the Malfoys are driving a flame red Toyota or consume Shiner bock and hot wings at a Texas honkytonk, I totally want a sticker now! www.goats.com has them, their motto: "fictional elections deserve fictional characters".
Oh and while I am not making any kind of political statement whatsoever here, of course if you live in the US of A, get your butt down to the voting booth when the time comes. At least that way the crap that will go down here in the next 4 years will have been partially your fault as well.
Remember what my grandmother said: "Politicians are like diapers. You need to change them out once in a while."

* If you ask me to make artwork available as a print, please check if it uses copyrighted material. DA will not take print submissions that are based on such materials. This means, no prints of drawings based on movies or TV shows like the Harry Potter Movies, Brokeback Mountain, CSI etc. If you want a drawing as a print please note me instead.
Commission status: open
Drawings:
"Supernatural" for AriannaSage: received
"Lucius and OC" for twilight2546: finished, waiting for payment
"Narcissa and Fawn" for Riabhack: finished, posting next week
If you want to know more about my art:

did a great interview with me.
[link]
Create your own visitor map!

My Photography and Terragen account