A couple of months ago the people at "Beadworks" magazine contacted me about publishing one of my original designs. After going through a few of submissions, they eventually decided on a stacked and latticed peyote bracelet with matte gold delicas and interspersed with Svarovski crystals.
So in the March edition the magazine now features detailed instructions on how to work one of my cuffs. I must say, their photographer and their graphic designer did a really brilliant job putting it all together from my basic photoshopped instructions.
Anyway, here's a sneak peek at the cover, my contributor photo and introduction (6th from top or 3rd from bottom) and the first two pages of the instructions.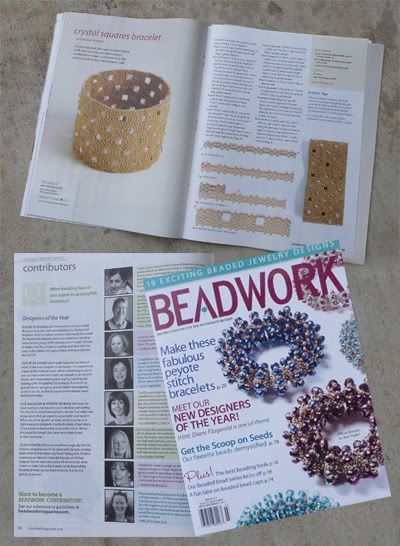 * If you ask me to make artwork available as a print, please check if it uses copyrighted material. DA will not take print submissions that are based on such materials. This means, no prints of drawings based on movies or TV shows like the Harry Potter Movies, Brokeback Mountain, CSI etc. If you want a drawing as a print please note me instead.
If you want to know more about my art:

did a great interview with me.
[link]