My artist for this journal is

This truly talented deviant is a new discovery for me and I am absolutely enchanted by his amazing books and other magical and mystical objects. They have a wonderful aura of being true and treasued possessions of some guild of wizards in a parallel dimension. Check out his other art as well, he's amazing with models masks and make-up as well!

I'd like to thank everyone who was involved with my latest DD and putting over 1000 messages into my message center during the week I was exploring the Texas hill country. It was such a wonderful surprise and a really lovely birthday gift to see so many folks loving my latest stained glass window.
I also see that I'm nearly bumping up against the big 200.000 pageviews here. So here's my offer: the first person to send me a screencap of my 200.000 pageview will get a Harry Potter Tarot deck sent to them. Right now my personal printed edition contains all the majors, all the court cards and the pips of each suit from ace to five. However, I promise that I will send them a second instalment as soon as I have drawn and printed the 6s to 10s, so in the end they'll have a full working deck.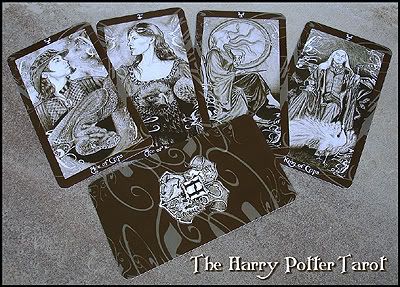 Talking about Harry Potter - I was rather shocked to see the latest high-res picture of Narcissa for the upcoming (and sadly delayed) movie. Why the heck do they have to mess up the hair of all of the Black women? First they make Bella's look as if she'd just stuck her finger into a muggle electrical outlet, and now this skanky skunk look for the blond, straight-haired Narcissa. It does nothing for the actress who plays her, either, except make her look even older than she does anyway. How hard is it to find a pretty looking, young, blond British actress, people?
I guess all the folks who wrote philandering Lucius fanfics can take a collective sigh of relief. It's probably all true...

The vacation time was just lovely. We spent a week visiting caves, a wildlife park, stopped over at the San Antonio zoo to see the new hippo exhibit, hung out in Fredericksburg and sampled the local brew, climbed enchanted rock and ended up in the middle of a lake in a house boat for the remainder of the week. Perfect in my books!

* If you ask me to make artwork available as a print, please check if it uses copyrighted material. DA will not take print submissions that are based on such materials. This means, no prints of drawings based on movies or TV shows like the Harry Potter Movies, Brokeback Mountain, CSI etc. If you want a drawing as a print please note me instead.
* Commission status:
Jewelry:
- Art trades with LadyBlacksword - silver bracelet and bead bracelet finished and ready for shipping
- Snake jewelry set for Arinya13 - on hold
- Earrings for Fairydivine art trade - received
- Zaphiria Bracelet and Lily of the Moon for Golubaja - received
- Jewelry commission status: currently closed, I just don't have the time, sorry!
Drawings:
- Enter the Dragon 7 for jessa - received
- Fawn and a thestral for Riabhach - received
- Drawing commission status: currently closed, I just don't have the time, sorry!
If you want to know more about my art:

did a great interview with me.
[link]
Create your own visitor map!

My Photography and Terragen account