My featured artist for this journal is

I love her art, and though I featured her recently, she needs to sell some art - don't we all these days - so look again and go, show her some love, commission her, buy her beautiful work! I wish I had more than two pennies to rub together, because I NEED me some of her lions on my wall! Oh yes, did I mention this is my CAT feature of her. She does beautiful portraits and hands and other art as well, though!
:thumb127693079:

Well, it's been one of the odder months this year. With August being my birthday month I am used to spending some time out of the ordinary, but usually that's a fun vacation or a good time with friends.
This month I had my husband stay with his family in England for the entire time, because his Dad had just gone through major surgery - he's fine, though. Then some moron bashed up my brand new car at the beginning of the month and I spent the next few weeks battling his insurance, getting the car into the shop to be repaired and running around in a rental - not much fun.
And finally work has been odd. Still almost no money made this month - I'm looking at $1000 for one measly project management course, but I spent all my time networking, meeting people and putting my feelers out for opportunities, so I've been busier than I've been for a long time. If everything happens, shoot me, because there is no way I can do it all. If nothing happens, shoot me also, because I should have spent this month drawing, making jewelry and otherwise sucking my thumb instead of running around!
We'll see.
I did do a few projects. One of them - make my own prickly pear jelly. My big-ass cactus has finally had his first crop of fruit, and I just canned the first batch of jelly. It's yummy, especially when presented with some crackers and a small dollop of cream cheese.
Here's what you do:
Pick a batch of fruit using tongs and scrub them under running water - still using tongs - your fingers will thank you. Once all the needles are off, chop them into pieces. Put the pieces in a pot, add water so they are just covered and boil the heck out of everything for about an hour and a half keeping a lid on the pot so the water does not evaporate. Then add a chopped up habanero pepper and a handful of basil and tarragon leaves. Boil for another ten minutes or so and then mash with a potato masher.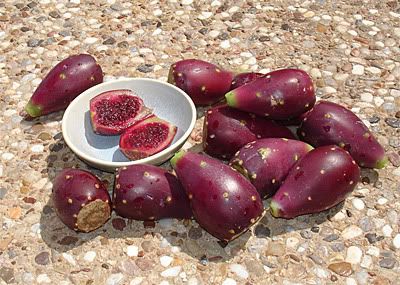 Pass the whole mess through a cheesecloth or coffee filter and add ingredients with the following ratio:
1 cup of your just boiled cactus juice
3 cups of sugar
1/3 cup of lemon juice
3 ounces of liquid pectin
Boil everything for about two to three minutes and stir until the sugar has completely dissolved. Fill the mix into mason jars, seal them by screwing on the double lids and sterilize them by immersing them in simmering water to just below their "necks" for ten minutes. Let cool and enjoy a bite of summer during the cool winter months.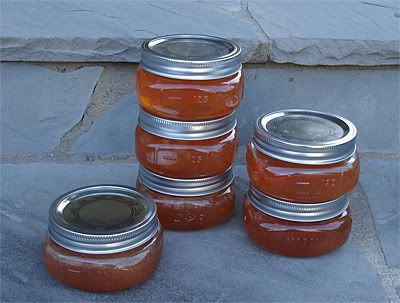 * If you ask me to make artwork available as a print, please check if it uses copyrighted material. DA will not take print submissions that are based on such materials. This means, no prints of drawings based on movies or TV shows like the Harry Potter Movies, Brokeback Mountain, CSI etc. If you want a drawing as a print please note me instead.
Commission status: open
If you want to know more about my art:

did a great interview with me.
[link]
Create your own visitor map!

My Photography and Terragen account